League Guru
Recent Articles by League Guru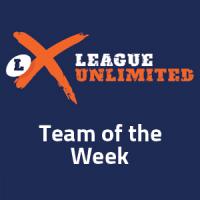 March 13th 2014 08:00pm by League Guru
BACK again in 2014 is LeagueUnlimited.com's Team of the Week. This week we pick our dream team from Round 1, and bring you the tally for the LeagueUnlimited.com Player of the Year.
Mick's Match Centre
Ladder
Team
P
W
D
L
F
A
Pts
No ladder available
Subscribe to our eNewsletter
Keep up to date with all the happenings in the world of Rugby League with our free eNewsletter!
Facebook
#VBNSWCup | Earlier this week, the New South Wales Rugby League released the 2015 VB NSW Cup Draw, f...

1 day ago - 5 Likes

Junior match officials are subject to both verbal and physical abuse because NRL fans hold the belie...

4 days ago - 5 Likes

#NRLDRAW | The 2015 NRL - National Rugby League Season Draw was released yesterday. As we revealed o...

6 days ago - 2 Likes

#NRLDRAW | Here's what we know!

- Round 1 leaked (see attached post - but swap the Queensland games...

8 days ago - 22 Likes

11 days ago - 20 Likes