Four Nations
Click here to view Four Nations 2013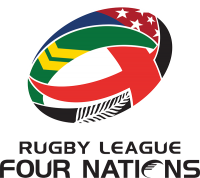 The Rugby League Four Nations is an annual rugby league football tournament run in partnership between the Australian Rugby League Commission, Rugby Football League and New Zealand Rugby League representing the top three nations in the sport: Australia, England and New Zealand. A fourth partner, France, accepted an invitation to play in the inaugural tournament. In the 2010 Tournament, Papua New Guinea was represented as they won the 2009 Pacific Cup. In 2011 they were replaced by the 2010 European Cup winners, Wales. The tournament is sponsored by Gillette and therefore officially known as the Gillette Four Nations.
The tournament was first contested in 2009 and replaced the Tri-Nations tournament that previously involved Australia, New Zealand and Great Britain.
The Four Nations is an integrated part of the Rugby League International Federation's 'International Calendar', with the fourth participant for 2010 and 2011 decided by the 2009 Pacific Cup and 2010 European Cups respectively. There was no tournament in 2012 to allow teams to prepare for the 2013 Rugby League World Cup.
Contents
1

Format

1.1

Qualification

1.2

The competition

2

History

3

Tournament finals

3.1

Tri Nations (1999-2006)

3.2

Four Nations (2009-)

4

See also

5

References

6

External links
Format
Qualification
In 2009 a qualifying tournament was held, the Pacific Cup, involving Papua New Guinea, Samoa, Tonga, Fiji and the Cook Islands. The winners, Papua New Guinea, qualified for the 2010 Four Nations. Likewise in 2010, the European Nations Cup decided the fourth participant in the 2011 tournament, Wales.
The competition
The tournament is organised in round-robin format. Each team play the others once, before the top two teams play each other in a tournament final. The top two teams are calculated using a league table. Teams receive:
2 points for a win
1 point for a draw
0 points for a loss
For and against then separates teams on equal points.
History
See also: 2009 Rugby League Four Nations
The 2009 tournament began on Saturday 24 October, after the National Rugby League Grand Final and the Super League Grand Final. The tournament ran for 4 weeks with a total of 7 matches, the final was played at Elland Road, Leeds, United Kingdom on Saturday 14 November.
Tournament finals
Tri Nations (1999-2006)
See also: Rugby League Tri-Nations
Year
Host nation(s)
Winner
Score
Runner-Up
Final venue
Final crowd
1999
 New Zealand
 Australia

Australia
22 – 20

New Zealand
Ericsson Stadium, Auckland
21,204
2004
 United Kingdom

Australia
44 – 4

Great Britain
Elland Road, Leeds
39,200
2005
 United Kingdom

New Zealand
24 – 0

Australia
Elland Road, Leeds
26,514
2006
 Australia
 New Zealand

Australia
16 – 12
Golden point

New Zealand
Sydney Football Stadium, Australia
27,325
Four Nations (2009-)
Year
Host nation(s)
Fourth nation
Winner
Score
Runner-Up
Final venue
Final crowd
2009
 England
 France
 France

Australia
46 – 16

England
Elland Road, Leeds
31,042
2010
 Australia
 New Zealand
 Papua New Guinea

New Zealand
16 – 12

Australia
Lang Park, Brisbane
36,299
2011
 England
 Wales
 Wales

Australia
30 – 8

England
Elland Road, Leeds
34,174
2014
 Australia
 New Zealand
 Samoa
Westpac Stadium, Wellington
See also
References
External links
Rugby League Four Nations

2014 teams

Australia
New Zealand
England
Samoa

Past teams

Papua New Guinea
France
Great Britain
Wales

Tri-Nations series

Four Nations series

Qualifying

2009 Pacific Cup
2010 European Cup
2014 Pacific Test
2014 European Cup
Rugby League International Federation

Test nations

Australia
Cook Islands
England
Fiji
France
Great Britain
Ireland
New Zealand
Papua New Guinea
Russia
Samoa
Scotland
South Africa
Tonga
Wales

Affiliate nations

American Samoa
Argentina
Austria
Canada
Czech Republic
Estonia
Germany
Greece
Hungary
Italy
Ivory Coast
Jamaica
Japan
Lebanon
Malta
Morocco
Netherlands
New Caledonia
Niue
Norway
Philippines
Serbia
Spain (Catalonia)
Sweden
Tokelau
Tuvalu
United States

Unaffiliated nations

Cuba
Denmark
Georgia
Ghana
India
Kazakhstan
Latvia
Mexico
Moldova
Norfolk Island
Portugal
Singapore
Solomon Islands
UAE
Ukraine
West Indies

International
competitions

Men's World Cup
Women's World Cup
Tertiary Student Rugby League World Cup
World Club Challenge
Four Nations
Tri-Nations
The Ashes
World Sevens
World Nines
Asian Cup
Baskerville Shield
European Cup
European Shield
European Bowl
Mediterranean Cup
Pacific Cup
Saint Patrick's Day Test
Slavic Cup
Peter Leitch QSM Challenge Trophy
Atlantic Cup
Colonial Cup
Nordic Cup
Milan Kosanovic Cup

Awards and rankings

Hall of Fame
Golden Boot
RLIF Awards
World Rankings

Teams list
Competition Teams