National Youth Competition
Click here to view National Youth Competition 2013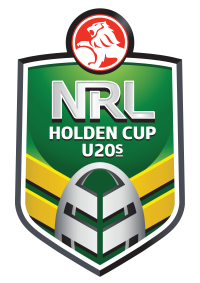 The 'National Youth Competition (sponsored as the Holden Cup) is the National Rugby League's competition for the under-20s teams of its sixteen clubs. It commenced in 2008 and was originally known as the Toyota Cup. and is run parallel to the main competition, the Telstra Premiership. The competition consists of teams from the 16 clubs that presently participate in the NRL competition, fielding squads made up of players between the ages of 17 and 19. The draw and structure mirrors the NRL, with games played as lead-ins to the corresponding first-grade NRL games. The competition uses a salary cap in the same way as first-grade NRL, and puts a heavy focus on life outside of football for the players. Matches are traditionally played prior to NRL games including the premiership final which is played in the same venue prior the NRL Grand Final.
The New Zealand Warriors are the most successful club in the National Youth Competition's short history, with two premierships already to their name, both coming in 2010 and 2011. The most recent premiers are the Penrith Panthers.
Contents
1

History

1.1

National Youth Competition Premiers

1.2

Player of the Year Award winners

1.3

Jack Gibson Medal winners

2

Teams & Coaches

3

Television Coverage

3.1

Australia

3.2

New Zealand

4

Records

5

See also

6

References

7

External links
History
[

edit

]
National Youth Competition Premiers
[

edit

]
Season
Grand Final Information
Minor Premiers
Premiers
Score
Runners-Up
2008
Canberra Raiders
28 - 24
Golden Point
Brisbane Broncos
Canberra Raiders (40 pts)
2009
Melbourne Storm
24 - 22
Wests Tigers
Manly Sea Eagles (43 pts)
2010
New Zealand Warriors
42 - 28
South Sydney Rabbitohs
South Sydney Rabbitohs (38 pts)
2011
New Zealand Warriors
31 - 30
Golden Point
North Queensland Cowboys
New Zealand Warriors (43 pts)
2012
Wests Tigers
46 - 6
Canberra Raiders
Canterbury Bulldogs (39 pts)
2013
Penrith
42 - 30
New Zealand
Canberra Raiders (43 pts)
Player of the Year Award winners
[

edit

]
The Toyota Cup Player of the Year award is the premier individual award in the Toyota Cup. The voting for the award is similar to the Dally M Medal voting, where after each Toyota Cup game 3 points are awarded to the best player on ground, 2 points to the second and 1 point to the third. So far, every winner of the award has gone onto play first grade in the NRL. The inaugural winner was Ben Hunt from the Brisbane Broncos in 2008. Hunt is also the youngest player to win the award, at age 18 years, 5 months and 13 days.
| Year | Winner | Position | Team |
| --- | --- | --- | --- |
| 2008 | Ben Hunt | Halfback | Brisbane |
| 2009 | Beau Henry | Halfback | St. George Illawarra |
| 2010 | Tariq Sims | Prop | Brisbane |
| 2011 | Jack De Belin | Second-row | St. George Illawarra |
| 2012 | David Klemmer | Prop | Canterbury-Bankstown |
| 2013 | Bryce Cartwright | Second-row | Penrith Panthers |
Jack Gibson Medal winners
[

edit

]
The Jack Gibson Medal is awarded to the man of the match of the Toyota Cup grand final. The award is named after legendary rugby league coach, Jack Gibson. Gibson, who guided Eastern Suburbs to premierships in 1974 and 1975, the Parramatta Eels to three successive premierships from 1981 to 1983 and was named coach of the Team of the Century, died in 2008.
| Year | Winner | Position | Team |
| --- | --- | --- | --- |
| 2008 | Josh Dugan | Fullback | Canberra |
| 2009 | Luke Kelly | Halfback | Melbourne |
| 2010 | Carlos Tuimavave | Five-eighth | Warriors |
| 2011 | Jordan Meads | Halfback | Warriors |
| 2012 | Matt Mulcahy | Five-eighth | Tigers |
| 2013 | James Roberts | Centre | Penrith Panthers |
Teams & Coaches
[

edit

]
The Brisbane Broncos Under 20s side is coached by Kurt Richards.
The Canberra Raiders Under 20s side is coached by Andrew Dunemann.
The Canterbury-Bankstown Bulldogs Under 20s side is coached by Andrew Patmore.
The Cronulla-Sutherland Sharks Under 20s side is coached by James Shepherd.
The Gold Coast Titans Under 20s side is coached by Jamie O'Connor.
The Manly-Warringah Sea Eagles Under 20s side is coached by Luke Williamson.
The Melbourne Storm Under 20s side is coached by Dean Pay.
The New Zealand Warriors Under 20s side is coached by John Ackland
The Newcastle Knights Under 20s side is coached by Michael Crawley.
The North Queensland Cowboys Under 20s side is coached by Todd Wilson.
The Parramatta Eels Under 20s Side is coached by Steve Speechley.
The Penrith Panthers Under 20s side is coached by Garth Brennan.
The South Sydney Rabbitohs Under 20s side is coached by Ben Gardiner.
The St. George Illawarra Dragons Under 20s side is coached by Justin Holbrook.
The Sydney Roosters Under 20s side is coached by Paul Green & assisted by Anthony Barnes
The Wests Tigers Under 20s side is coached by Todd Payten.
Television Coverage
[

edit

]
Australia
[

edit

]
Free To Air: Channel 9 show the Grand Final as part of the Grand Final Coverage.
Subscription television: FOX Sports show 2 games live every weekend, live coverage of the Toyota Cup precede Fox Sports' Super Saturday and Sunday live NRL coverage.
New Zealand
[

edit

]
All New Zealand Warriors home games in the U20's competition are shown live by Sky NZ. Māori Television also broadcasts Ngāti NRL, a series that focuses on young Māori and Pacific Islanders who travel to Australia and play in the Toyota Cup.
Records
[

edit

]
List of records in the National Youth Competition
See also
[

edit

]
References
[

edit

]
External links
[

edit

]
National Youth Competition

Current Teams

Brisbane Broncos
Canberra Raiders
Canterbury Bulldogs
Cronulla Sharks
Gold Coast Titans
Manly-Warringah Sea Eagles
Melbourne Storm
Newcastle Knights
New Zealand Warriors
North Queensland Cowboys
Parramatta Eels
Penrith Panthers
St. George Illawarra Dragons
South Sydney Rabbitohs
Sydney Roosters
Wests Tigers

Seasons

2008
2009
2010
2011
2012
2013

Season results

2008
2009
2010
2011
2012
2013
National Rugby League (2014)
   

Brisbane Broncos
Gold Coast Titans
New Zealand Warriors
South Sydney Rabbitohs

Canberra Raiders
Manly-Warringah Sea Eagles
North Queensland Cowboys
St. George Illawarra Dragons

Canterbury-Bankstown Bulldogs
Melbourne Storm
Parramatta Eels
Sydney Roosters

Cronulla-Sutherland Sharks
Newcastle Knights
Penrith Panthers
Wests Tigers
Australian Rugby League Commission
History

NSWRL
Super League war
All time club list

Premiers
Wooden spooners
Records
Golden point games
Team rivalries
Expansion
Salary cap
Annual events

Dally M Awards
World Club Challenge
National Youth Competition
Foundation Cup
Club ANZAC Game
Clive Churchill Medal
1989 League Legends Cup
Charity Shield
Auckland Nines
All Stars
Media

Big League
The Footy Show
Fox Sports (Australia)
Friday Night Football
Nine Network
NRL Rugby League
Rugby League Week
Rugby league in Australia

Australia

National teams: Australian Kangaroos (results)
Australian Jillaroos
Aboriginal
Junior Kangaroos
Australian Schoolboys
Prime Minister's XIII

Competitions: National Rugby League
Holden Cup
State of Origin
City vs Country
All Stars Match
Affiliated States Championship

New South Wales

Open age competitions: New South Wales Cup
Ron Massey Cup
Amco Cup (defunct)
NSWRL Premiership (defunct)

Underage competitions: Jersey Flegg Cup (Now NRL Under 20's)
S. G. Ball Cup (U18s)
Harold Matthews Cup (U16s)
ARL Schoolboy Cup (high school)

NSW Country

Group competitions: 1
2
3
4
5
6
7
8
9
10
11
12
13
14
15
16
17
18
19
20
21

Divisional competitions: Canberra
Central Coast
Illawarra
Newcastle
Northern Rivers
Sunraysia-Riverlands

Cup competitions: Clayton Cup
Castlereagh Cup
Woodbridge Cup
Mid-West Cup
Outback RL
North-West Plains Cup

Queensland

Divisions: Central (South West, Wide Bay)
Northern
South East

Main competitions: Queensland Cup
Brisbane A-Grade
Foley Shield
Brisbane Second Division
FOGS Colts Challenge (U20s)
Mal Meninga Cup (U18s)
Cyril Connell Cup (U16s)

Affiliated States

Northern Territory (Darwin RL)
South Australia
Tasmania
Victoria
Western Australia

Other leagues

University
Masters
Police
Secondary schools
Women

Rugby league in

Australian Capital Territory
New South Wales
Northern Territory
Queensland
South Australia
Western Australia
Victoria
Rugby league in New Zealand

Federations
Representative teams

Men's ("Kiwis")
Women's ("Ferns")
Junior
Māori
Residents

New Zealand Kiwis
Zones

Northern
Auckland
Counties-Manukau
Upper Central
Mid-Central
Wellington
Southern

Districts

Auckland (team)
Bay of Plenty (team)
Canterbury (team)
Coastline (team)
Gisborne Tairawhiti (team)
Manawatu (team)
Northland (team)
Otago (team)
Southland (team)
Hawke's Bay (team)
Taranaki (team)
Tasman (team)
Waikato (team)
Wellington (team)
West Coast (team)

Australian competition teams

New Zealand Warriors (NRL)
Auckland Vulcans (NSW Cup)
Auckland Lions (defunct)

Competitions

National Competition
Rugby League Cup
Bartercard Premiership (defunct)
Bartercard Cup (defunct)
Lion Red Cup (defunct)

New Zealand
domestic seasons

1908
1909
1910
1911
1912
1913
1914
1915
1916
1917

1918
1919
1920
1921
1922
1923
1924
1925
1926
1927

1928
1929
1930
1931
1932
1933
1934
1935
1936
1937

1938
1939
1940
1941
1942
1943
1944
1945
1946
1947

1948
1949
1950
1951
1952
1953
1954
1955
1956
1957

1958
1959
1960
1961
1962
1963
1964
1965
1966
1967

1968
1969
1970
1971
1972
1973
1974
1975
1976
1977

1978
1979
1980
1981
1982
1983
1984
1985
1986
1987

1988
1989
1990
1991
1992
1993
1994
1995
1996
1997

1998
1999
2000
2001
2002
2003
2004
2005
2006
2007

2008
2009
2010
2011
2012
2013
2014

2015

2016

2017
Competition Teams
Latest Competition News
NORTH Queensland have their second win at home and in 2014, after a six try scoring bonanza over the Newcastle Knights in a 28-2 victory in front of 11,189 fans at 1300Smiles Stadium.
​THE Cronulla Sharks have recorded their first win of 2014, defeating the New Zealand Warriors in emphatic style, 37-6, in front of a crowd of 11,307 at Remondis Stadium.
WELL, we all came crashing back to earth this week. After a week full of 4s and 5s, we've limped into Round 5 with a handful of 1s, 2s and 3s. Have a look who we think you shouldn't tip this week.
THE QRL has supplied it's weekly list of teams for the sixth round of the Queensland Cup - better known by its sponsored name of the Intrust Super Cup.
IT was a controlled performance from almost every half in the competition this week, with solid kicking games across the board. We could have picked an entire team of halfbacks, five eighths and centres if we had wanted to. Maybe one week we will.